Welcome to the Chowder Fan Club! This is an online encyclopedia for all things pertaining to Chowder.
Chowder is an American-animated television series that debuted on Cartoon Network on November 2, 2007. The show was created by C. H. Greenblatt, a former storyboard artist on SpongeBob SquarePants and The Grim Adventures of Billy & Mandy. The title character is a young child named Chowder, an apprentice to a master chef named Mung Daal, who owns a catering company serving the fictional Marzipan City. The show combines traditional animation with stop motion animation and puppetry.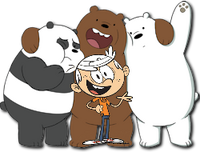 Featured Article
Panini is a 10-year old girl, and one of the main characters in the series. She became a great chef under the tutelage of her teacher, Ms. Endive. read more...
Did You Know...
Shnitzel's part in the opening theme for Chowder is translated as "you share a big piece with everyone"?
There are countless stubs on Chowderpedia and we need your help fixing them.
Help Chowderpedia
To write a new Chowderpedia article, enter the title in the Chowderpedia article creator. Easy as making a "Pickle in a Cup."Not sure where to start?
If you are new to wikis, check out the tutorial and feel free to test any edits in the Sandbox.
You can also use the Manual of Style as a guide for creating consistent looking articles.