Fish sticks and fish stones are battered fish formed into shapes of sticks and stones, respectivily. If not prepared properly, the consumer's teeth could fall out. It is also said by Mung Daal that Fish Stones, if dropped on a person, can break their bones. This is only seen in "Mung on the Rocks".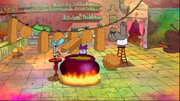 Trivia
They are a parody of fish fingers and other battered things and the phrase, "Sticks and stones may break my bones, but words will never hurt me."
It is possible that fish sticks can also break bones if dropped on someone, but Mung was able to lift a fish stick with ease, though it probably was the fish stone that could break bones due to the giant girth and mass.